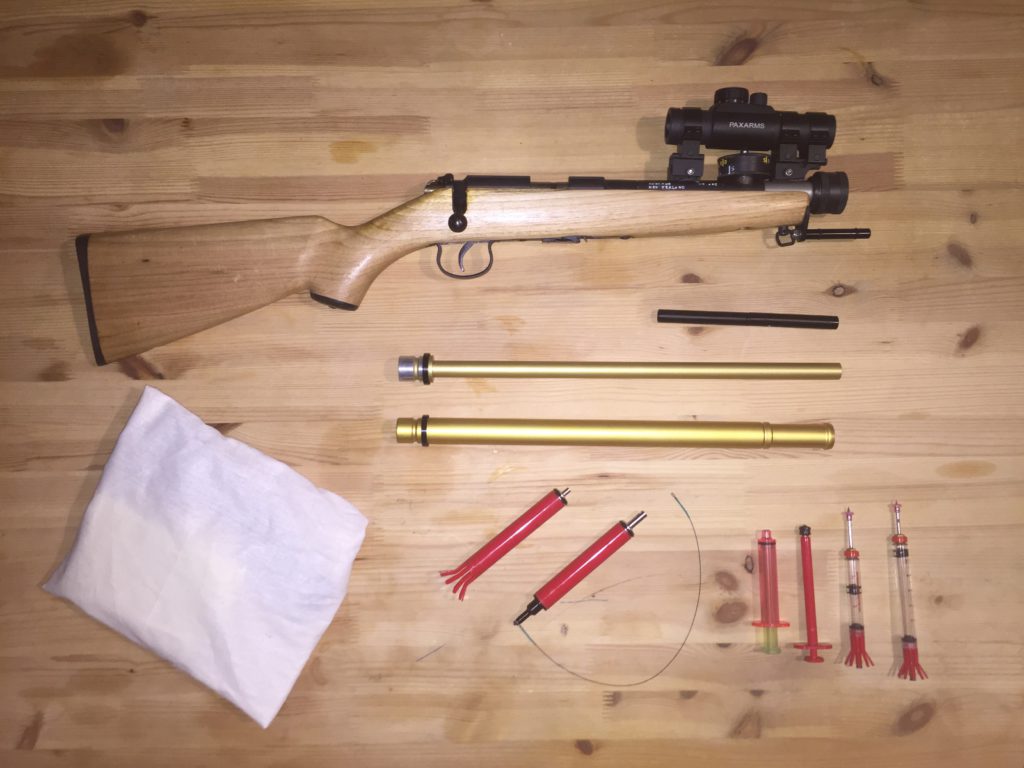 The PAXARMS MK24C PROJECTOR is the result of years of perfecting a humane, flexible and reliable delivery method for remote tranquillising and biopsy sampling of land and marine mammals. Its unique snap-on barrel system enables enhanced reload and with the purchase of an additional barrel it allows for fast reload for a second shot.
The MK24c also features our PAXARMS RANGE CONTROL VALVE. This unique technology allows for the same minimal dart impact regardless of distance. This is a very important feature for reducing bruising, stress and potential harm to the animal.
Our Red Dot Scope adjusts with the control valve and is calibrated in METRES specific to which PAXLOAD you are using. The MK24c uses PAXLOAD cartridges which come in two variations the lower powered DOLPHIN and for longer distances the WHALE. All systems come with a comprehensive SYSTEM KIT to help you maintain and understand your SYSTEM. PAXARMS Projectors are sold as either a BIOPSY or REMOTE INJECTION SYSTEM.
We are the exclusive exporters of our SYSTEMS, delivering worldwide using FEDEX. All systems are exported in a DURABLE PELICAN CASE.
PAXARMS offers a WARRANT OF FITNESS SERVICING for our projectors, just courier your SYSTEM to us and we will evaluate and recalibrate the it back to factory standards, please contact us for fees. We will inform you if there is an additional work needed before beginning any repairs. Please do not hesitate to contact us regarding this service if you have any further questions.
---
MAKE: PAXARMS
MODEL: MK24C*
TYPE: DART PROJECTOR
CALIBRE: .509 SNAP ON BARREL (REMOTE SYRINGE) / .745 SNAP ON BARREL (BIOPSY)
BARREL: ANODIZED ALUMINIUM
ACTION: BOLT ACTION
MAGAZINE: 4 X  BLANK CHARGES
INTEGRATED SCOPE: OPTICAL RED DOT
*SYSTEM INCAPABLE OF FIRING CONVENTIONAL .22 ROUNDS
WEIGHT: 1.4 KG
TOTAL LENGTH: 1.085 M.
LENGTH OF BARREL: .400mm.
INTENDED USE: VETERINARY REMOTE DRUG INJECTION & SCIENTIFIC USE FOR THE RETRIEVAL OF TISSUE SAMPLES FROM MARINE MAMMALS FOR EXAMPLE WHALE, DOLPHIN, SEALS OR LAND MAMMALS
---
MK24c Projector System:
PAXARMS MK24C Snap on barrel Projector with Fully Integrated Optical Red Dot Scope
System Kit
Hard Pelican Case* (*sold separately but non-optional when purchasing for export.)
System Kit Includes:
Cleaning Rod
Roll of Cloth Cleaning Strips
Wire Chamber Brush
Wire Syringe Barrel Brush (Syringe Dart system only)
Insertion Rod Attachment
PAXARMS Projector Oil
PAXARMS Silicone
MK24C Instructions
Syringe Dart Configuration:
1x Practice Dart
Syringe Dart Barrel
Dart Filing Unit
Syringe Pump
Gas Checks Packet of 10
Needle Seals Packet of 100
Tail Plugs Packet of 100
Tail Valve Gaskets Packet of 10
Biopsy Configuration:
1x Practice Biopsy Float / Tether Dart
Biopsy Barrel