PAXARMS MODEL B SYRINGE POLE extends from 95cm to 2.5 metres with a 5.0ml capacity. Paxarms Handhelds have a flexi-head, allowing for sudden animal movement allowing for humane drug delivery. Easy fill – per ml. calibrated syringe inserts directly into drug bottle to draw out the correct dosage.
---
SYSTEM INCLUDES:
PAXARMS MODEL B POLE
Spare 5.0ml Syringe Body
Spare Rubber Piston
4 x Needles
Bottle of PAXARMS SILICONE
DIRECTIONS
Lubricate piston on the end of rod with PAXARMS SILICONE.
Insert needle into syringe-body by removing plastic cover from hub.
Push syringe body containing needle over the piston and onto the rod.
Filling is achieved in the same manner as filling a conventional syringe. Simply insert into the drug bottle and draw calibrated body away from the rod to obtain the ml. dosage required.
DO NOT USE SOLVENT CLEANING PRODUCTS AS THEY WILL COMPROMISE THE POLYCARBONATE PLASTIC AND SIGNIFICANTLY REDUCE THE LIFE OF YOUR EQUIPMENT.
---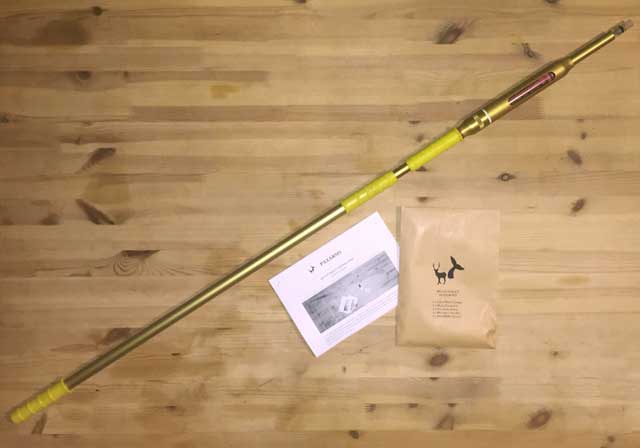 PAXARMS MULTI-INJECT SYRINGE POLE offers the same versatility and humane operation as the MODEL B, with the added convenience of an internal 30ml reservoir. Can deliver up to 5.0ml at a time, perfect for managing multiple doses over more than one animal with an additional reservoir capacity of 35.0ml. The reservoir enables the operator to see how much drug is remaining and set individual dosages for each animal. The SYRINGE POLE extends to 1.2 metres. Needles are safe, quick and easy to change. The MULTI INJECT has a one way vacuum eliminating cross contamination.
---
SYSTEM INCLUDES:
MULTI INJECT ASSEMBLY
1 x 5.0ml Multi Syringe
1 x Mono Extension
2 x Four-Hole Valves
4 x Monoject Needles
1 x Bottle of PAXARMS SILICONE
INSTRUCTIONS:
To unlock the assembly hold cross-hatched area (near the red sleeve) and yellow handle and turn towards you. Pull the reservoir assembly away from the pole. Syringe arrangement will drop out revealing the extension end that holds the needle. A 4-hole valve, a 5.0ml syringe, a gold stem with a red plastic insert that holds the second 4-hole valve. The 35.0ml reservoir is inserted into the stem, the window casing fits over this to attach it back onto the pole and lock. Pull out the 35.0ml reservoir and fill with liquid, reassemble, draw drug into the 5.0ml syringe by pulling up and down – HOLD IN A VERTICAL POSITION TO REMOVE AIR.
It is recommended to assemble and disassemble until you are familiar with the system. You PAXARMS MULTI works best when the valves are clean, use a small amount of PAXARMS SILICONE, see CLEANING & CARE INSTRUCTIONS.